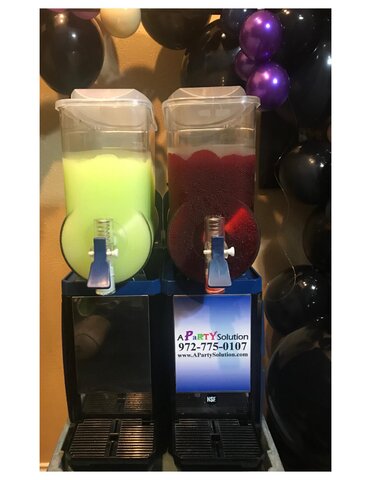 Margarita Machine Double Bowl
Rent a Double Bowl Margarita Machine for Your Next Event.
A party is not a celebration without the perfect margaritas! Let us help you with your next margarita-themed event by renting a commercial-grade margarita machine from A Party Solution. We offer the following mixes (Lime, Strawberry, Hurricane, and Blue Hawaiian) that will make 50-60 drinks (per mix) with 9-ounce cups - enough for all your guests!
Machine Features:
Serve two different drinks with the push of a button.

Price includes 2 Mixes, 50 cups & straws, delivery, set up, and pick up.

We "DO NOT" provide liquor!!
Is it complicated or difficult to operate?
Not at all! Once you rent this machine you will definitely say bye-bye to the old blender way.
First, you will pour the full bottle of mix into each jug under the cart and then fill with water to the water mark on the jug.
You would then add the liquor to each jug of mix and water. Shake Well.
After that, you will then pour into machine. On the front of each side it has a "Minimum Line and Max Line". Do not pour pass the Max Line. Each side will only hold 3 gallons while the mixture in the jug will be a little over 4 gallons.
Once mix has been added to both sides you can turn on the one main switch that was left in the off position. All of the other switches are already set and should all be in the up position.
Will need to start machine at least 2-3 hours before event time to give time to freeze.
Enjoy your frozen drink in the next 2-3 hours!
If either side begins to get low can slowly add (to keep from melting what's already frozen) the remaining that's left inside the jug.
What will I need?
Original Margarita

: 1.75 liters of Tequila and 1 liter of Triple Sec (optional)

Strawberry

- 1.75 liters of Tequila (for Margarita's) or 1.75 liters of Rum (for Daiquiri's)

Blue Hawaiian

- 1.75 liters of Coconut Rum, 1- 46 oz. of Pineapple Juice
Hurricane- 1.75 liters of Rum, 32 oz. of Hawaiian Punch (optional)
Please Note: The Margarita machine must remain on cart with a skirt around the bottom. We cannot lift machine up any stairs or maneuver through rough terrain. Must be plugged DIRECTLY INTO a three-prong outlet. When outside temperature is ABOVE 85 DEGREES machine MUST BE set up INSIDE!
Let's get this party started and order a machine today.