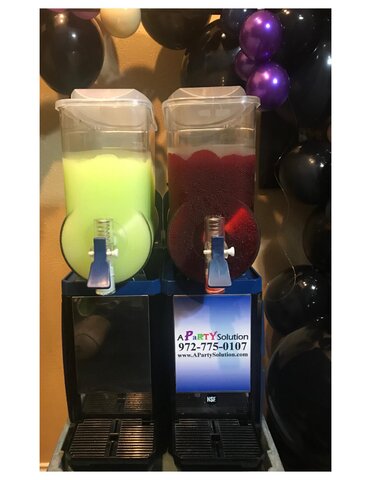 Margarita Machine Double Bowl
Rent a Double Bowl Margarita Machine for Your Next Event.
A party is not a celebration without the perfect margaritas! Let us help you with your next margarita-themed event by renting a commercial-grade margarita machine from A Party Solution. We offer the following mixes (Lime, Strawberry, Hurricane, and Blue Hawaiian) that will make 50-60 drinks (per mix) with 9-ounce cups - enough for all your guests!
Machine Features:
Serve two different drinks with the push of a button.

Price includes 2 Mixes, 50 cups & straws, delivery, set up, and pick up.

We "DO NOT" provide liquor!!
What will I need?
Original Margarita

: 3 liters of Tequila and 1 liter of Triple Sec

Strawberry

- 1.75 liters of Tequila (for Margarita's) or 1.75 liters of Rum (for Daiquiri's)

Blue Hawaiian

- 2 liters of Coconut Rum, 1- 46 oz. of Pineapple Juice
Hurricane- 2 liters of Rum, 32 oz. of Hawaiian Punch (optional)
Please Note: The Margarita machine must remain on cart with a skirt around the bottom. We cannot lift machine up any stairs or maneuver through rough terrain. Must be plugged DIRECTLY INTO a three-prong outlet. When outside temperature is ABOVE 85 DEGREES machine MUST BE set up INSIDE!
Let's get this party started and order a machine today.